This article explains how to log into the mobile version of Vida and what functionality is available to you through the app.
The Vida Health mobile application can be found on both iOS and Android platforms and can be downloaded from the App store (iOS) or Play Store (Android).


We highly recommend running the app on a phone and not on a tablet.
The Vida app is designed to help you reach your goals, stay motivated, and become the healthiest version of yourself. Let's get started by giving you a tour.
Opening the app after the download process should take you to a Login screen.
On this screen, you will have two options. If you already have a Vida account, click on the blue Log in button in the top-right hand corner. If you would like to create a Vida account or are enrolling in Vida for the first time, click Try Vida Now at the bottom of the screen and follow the steps to create an account. If Vida is provided to you through an organization (such as your employer or health plan), enter the organization's name when prompted. If you are signing up for Vida on your own and not through an organization, you will be offered a free 7 day trial of Vida before payment is required.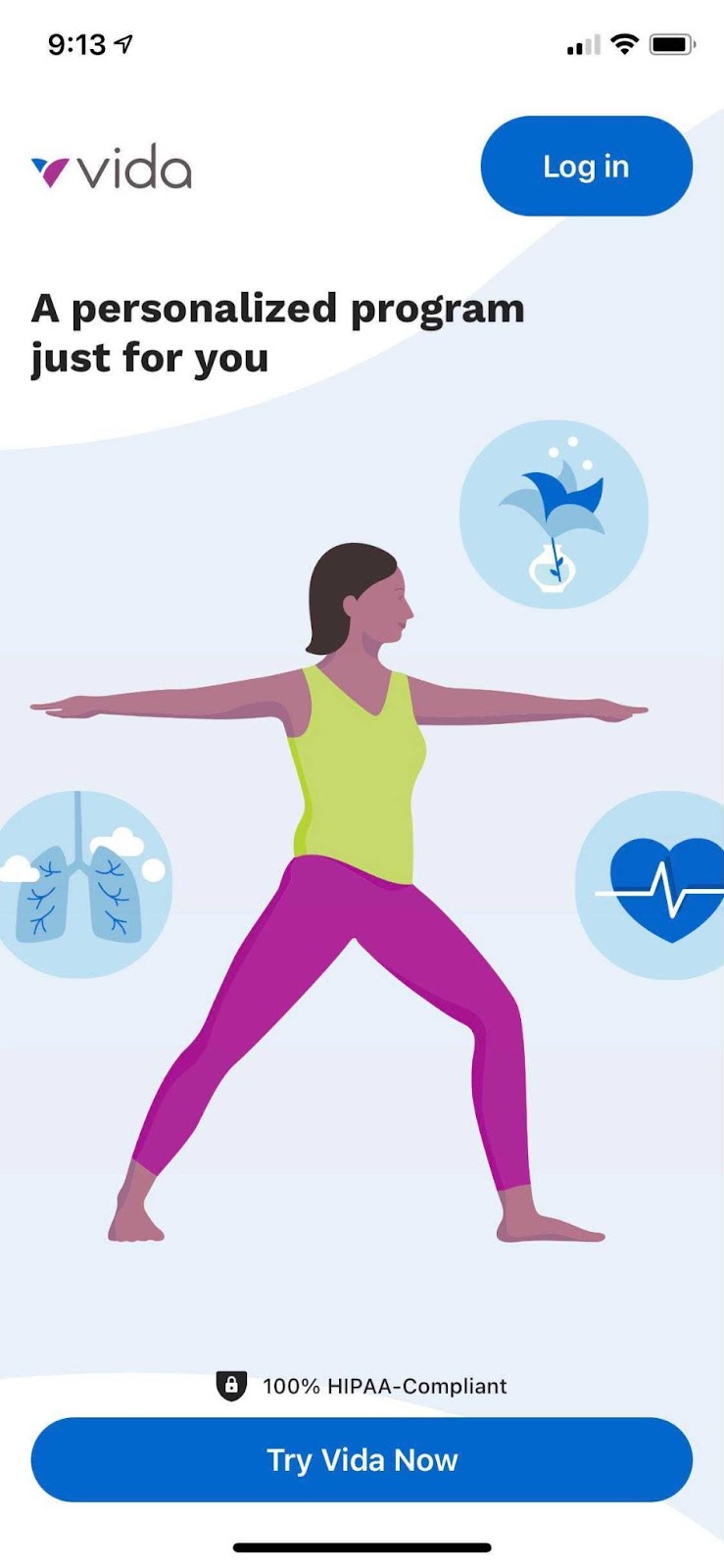 Now Tab
---
After successfully logging in or creating an account, you will be redirected to the Now tab or the App's Home screen. This screen will be divided into two parts. The top of the page has recommended content, lessons, and surveys and the bottom section has your Habits.
Your behaviors and habits are the building blocks of health. Whether you want to exercise (or exercise more), eat better, reduce stress, or thrive with a chronic condition, our app will help you build the right habits to get there.
The cogwheel at the top-right corner of the Now tab is your Settings screen. Settings has a number of options, including the ability to change your password, connect devices, view the Help Center, and more. Learn more about Settings here: The Settings Tab Explained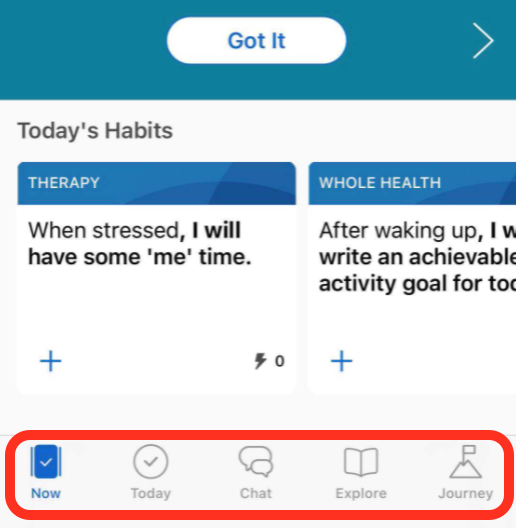 The very bottom of the screen shows the different tabs in the app. These are the Now, Today, Chat, Explore, and Journey Tabs which will be explained further in this article.
Today Tab
---
Your Today tab is one of the main features of the app. It houses all your trackers and you will likely see a few that have already been added, such as your food logger, thought tracker, or weight logger. This is also where you can set up your goals and schedule or view your sessions.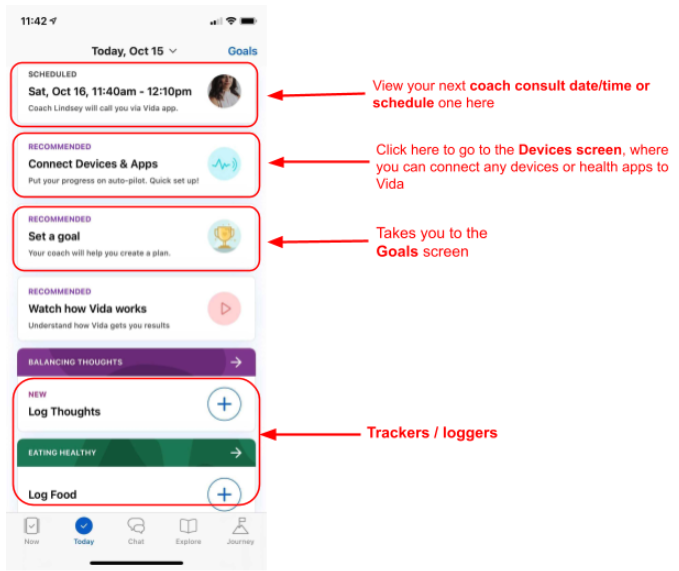 Depending on which program you are enrolled in, the Today Tab may also have a card where you can order complimentary device(s). Ask your coach for more information about eligibility for these devices.
Chat
---
Depending on your program(s) or any groups you have signed up for, the Chat Tab is where you can:
Interact with your coach via messaging

View any materials or lessons your coach has sent you

Receive automated notifications regarding your sessions or acknowledgment of logged metrics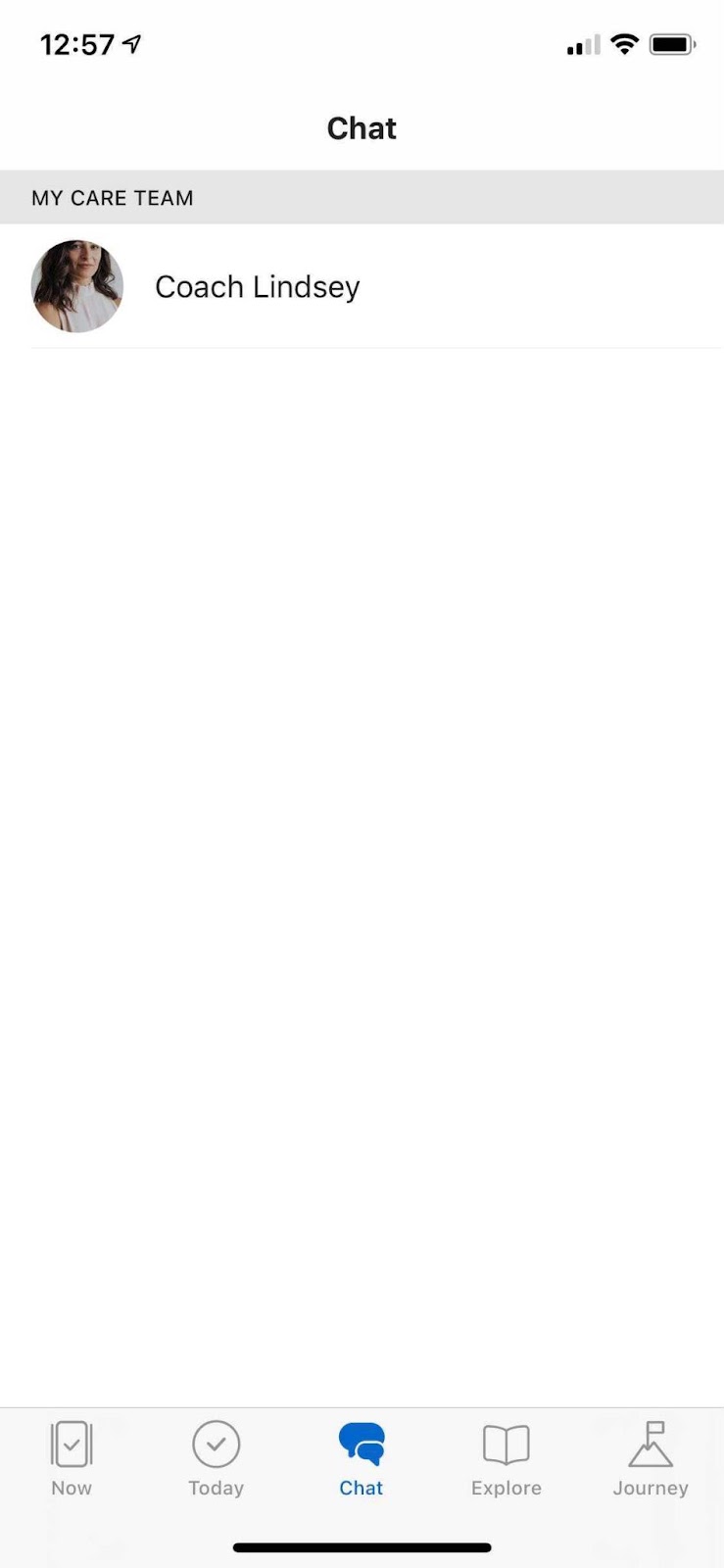 Simply, click on your coach's name and view any ongoing or historical messages. The image above is highlighting the Chat icon at the bottom of the screen indicating that you are on this tab. There will also be push notifications informing you of new or unread messages you have received.
Explore
---
The Explore Tab is split up into two separate pages. These are the Your Program and the Browse screens. Both pages focus on your program content and lessons.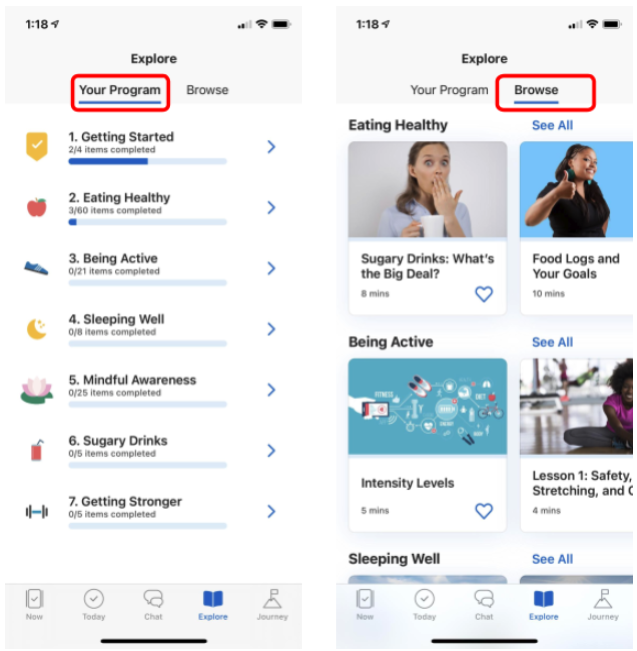 These two pages offer similar program content, but with a different layout. Since there's a lot of information out there on how to improve your health, it can be hard to know what to trust. In the Explore tab, you can view lessons and content that are based on research from top universities and institutions.
The Your Program page shows your progress through Vida's program content. The Browse page will show you the individual material in each program category and will also include a section on tools and lessons sent manually by your coach.
You can view lessons and content catered to your program, or you can browse through our library and view any content that piques your interest.
Journey
---
Curious about your progress? The Journey Tab lets you visually see the Progress you have made on your health goals. Each tracker you have on your Today tab will have its own graph or chart. Visit the Journey Tab to see how far you have come. The Plan screen gets populated after your first sessions, allowing you to view the plan your coach has established for you.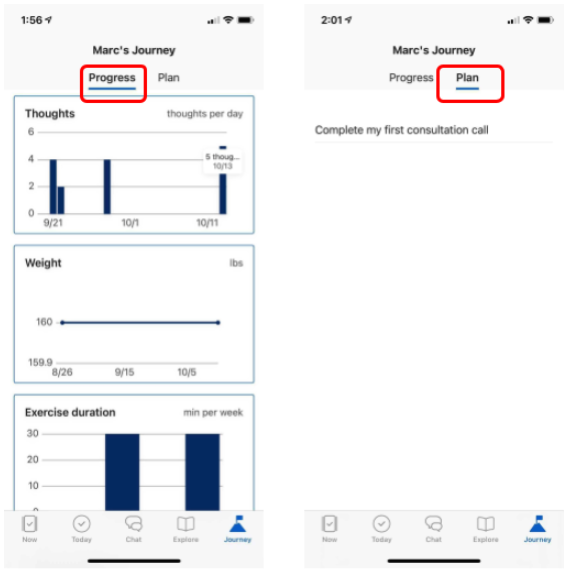 Other related articles: