Welcome to Group Coaching!
Vida Health's group coaching experience helps members achieve their health goals! This is an excellent opportunity to bring a ton of new information between different personalities and a variety of helpful opinions making it a more engaging and interactive experience. At this time, group coaching is only offered to select organizations. If you have any questions please reach out to support@vida.com.
You can send messages, photos, videos, and emojis in your Care Group! You can share your story with your community, ask questions, and you may even make a couple of new friends! Each group is led by a single coach and is viewed by moderators, so if you have any questions or concerns please feel free to post those questions in the care group chat. You'll find it on the Chat screen.
Specifications
- Group Coaching is offered in the following programs:
Whole Health

Weight Loss

Resilience
- You are granted one initial video call session with your coach at the beginning of the program. The ability to schedule a session will soon disappear after the completion of your first consult (you won't be able to schedule additional video calls).
- Message your coach separately in a one-on-one chat or private chat feed anytime.
- Interact with and message in the group chat anytime.
- Engage and review all program content sent by your coach.
How to choose Group Coaching during Onboarding
Please Note: Group coaching may or may not be offered, depending on your organization. Please reach out to support@vida.com with any questions on availability of different program types.
Upon registering for Vida and depending on your organization, if you select one of the three programs where group coaching is made available, you'll be asked "What kind of coaching method do you prefer?" Select Group Coaching to begin.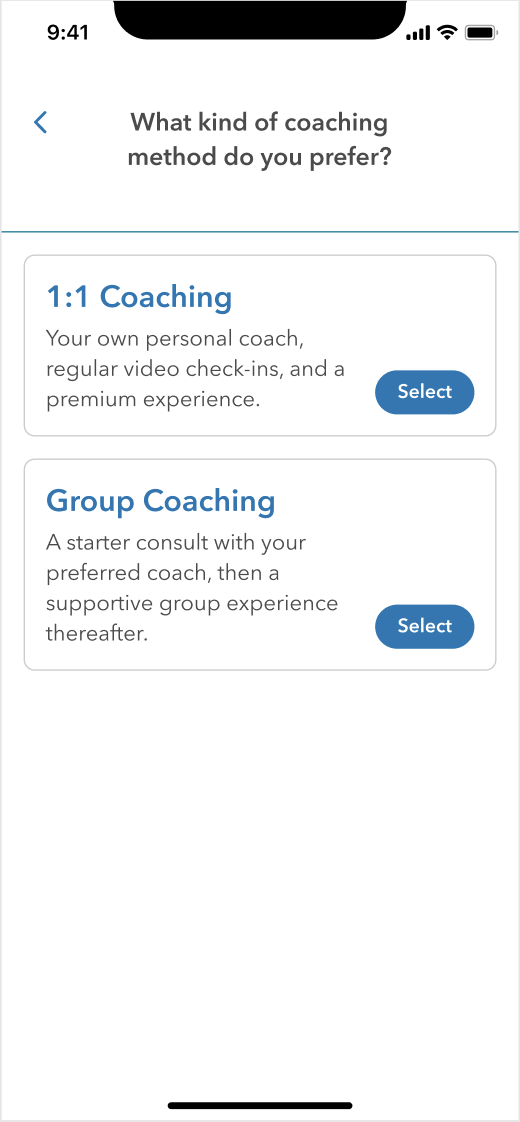 Post-Onboarding
Here are a few things to keep in mind after completing your onboarding.
Schedule your first session with your coach
To schedule your session, visit the Today Tab: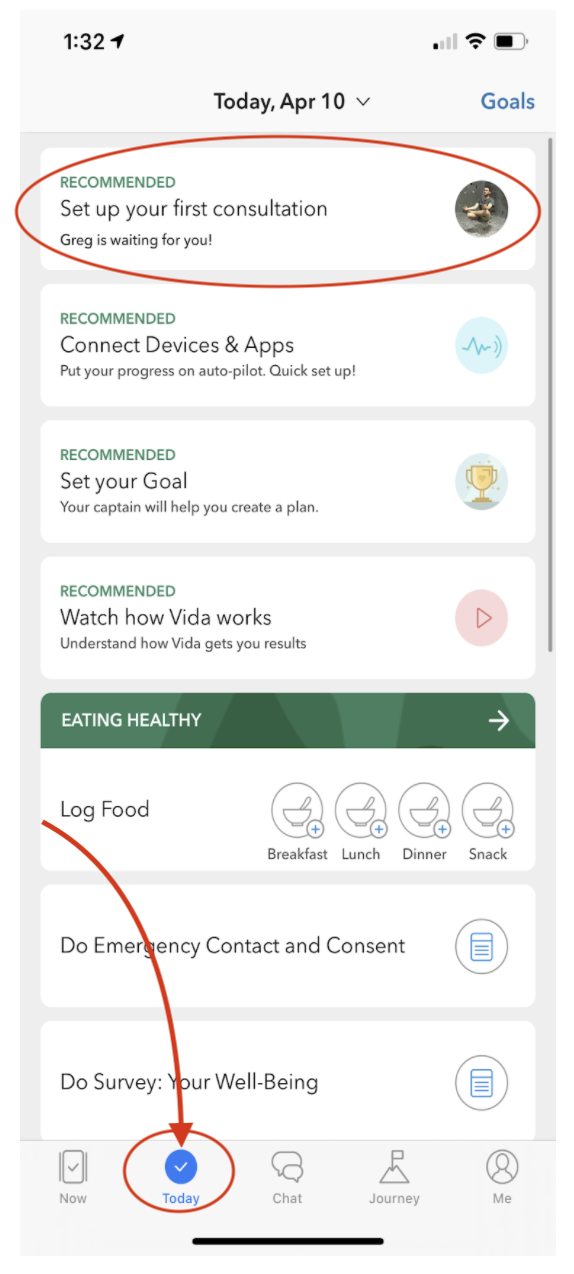 Where to find your Care Group
Navigate through the bottom tab in your Vida app and Locate the Chat button.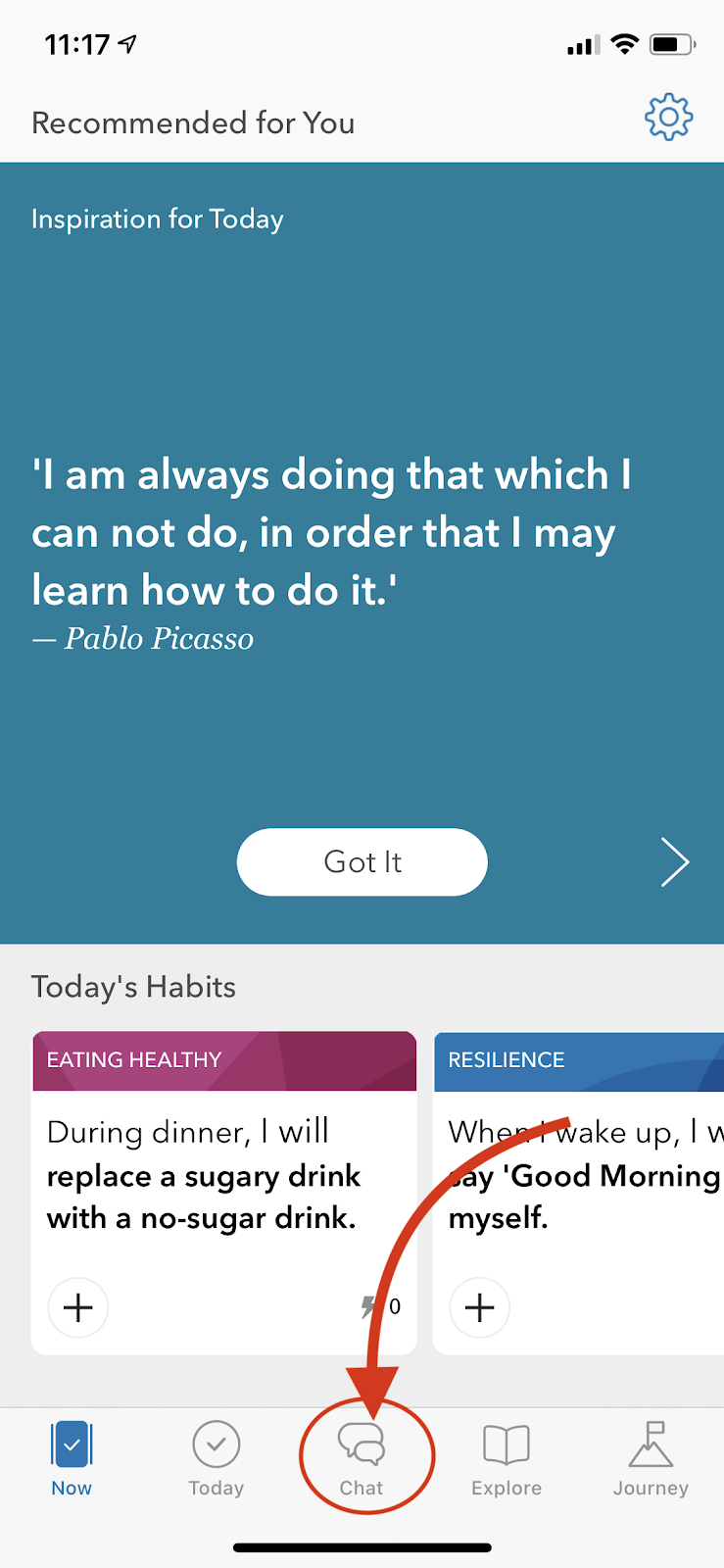 In the chat tab, you can see your personal coach under the "My Care Team" section, which is your one on one conversation with your coach.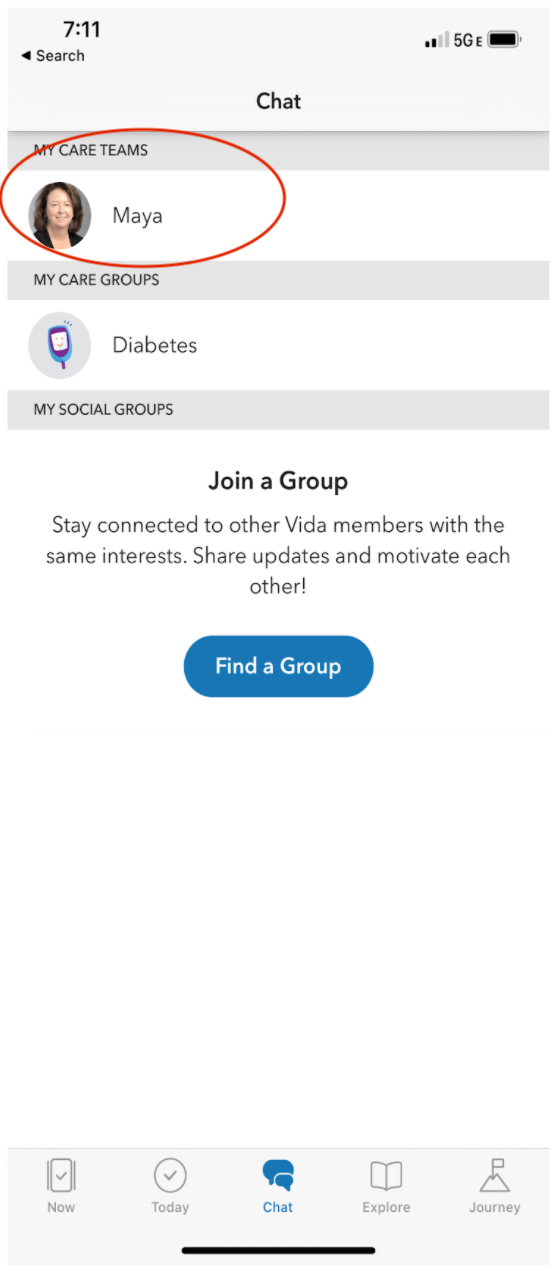 And below that, you can find your Care Group chat, which allows you to chat with others in your group.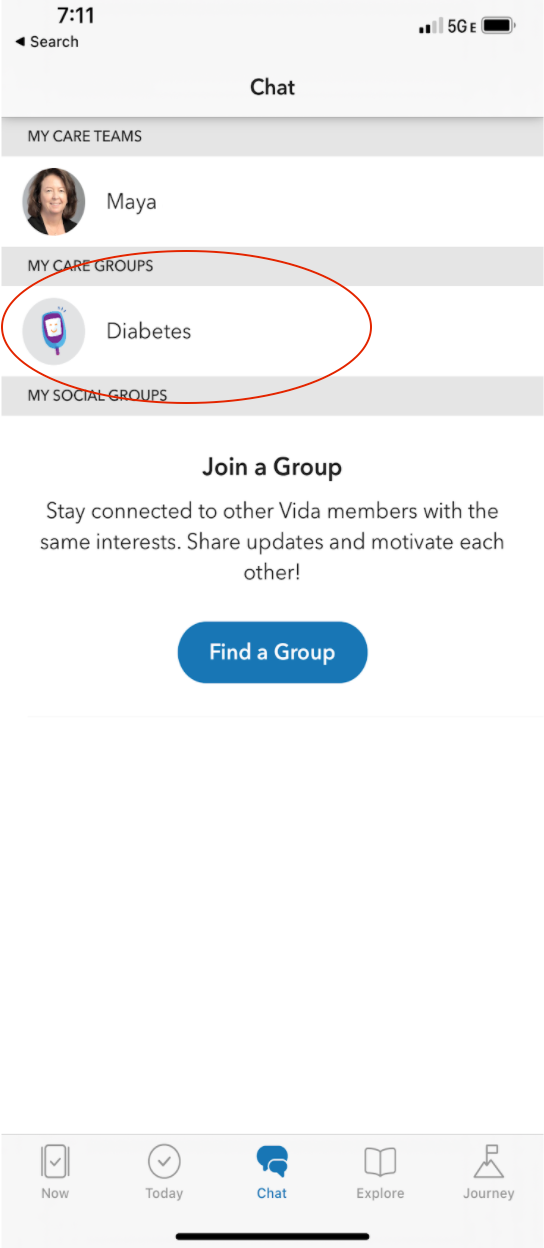 Things you can do and benefit from when chatting in a Group
Leverage knowledge and resources from a group of individuals aiming towards the same goals

Participate in an environment that strives for both encouragement and positivity

Share different points of view and ideas that can persuade other members to achieve their goals

Obtain helpful feedback

Be in a position to offer support and motivation

Send images and videos of food and activities that can incite fun and improve group engagement
How to view/engage in program content
Coaches have a variety of suitable and constructive content cards or lessons that can assist the group in accomplishing their goals. Here are examples of some content cards for the Whole Health Program:

These cards and lessons are designed to pave the way to healthier living. Some are something to ponder upon, some can potentially be eye-openers, and some might require answering questions or responding to surveys. Depending on the type of cards that were sent, you can view or complete them at your convenience. Once completed, cards are reviewed by your group coach and can be used to help them make decisions when guiding you through the next steps in your program and assigning new content cards for you to use.