Introduction
The Vida Cardiometabolic Medical Prescribing Service is available to some members currently enrolled in one of our cardiometabolic (CMB) programs (such as Whole Health) who would benefit from periodic lab testing.
FAQs
How do I find out if I'm eligible for the prescribing program?

Your eligibility is based on your reported medical conditions, medication history, and past lab tests. If you seem like a good fit for our prescribing program, you will receive an in-app notification to opt-in to receive lab orders from our prescribers.
You may also discuss your eligibility for prescribing services directly with your provider.
How long does it take to see a prescriber?

After opting in to the program, a Vida medical provider will be added to your care team. You will be notified if you should schedule a visit with your prescribing provider or if you can go directly to the lab for tests.

What else is required before I receive care from the Vida medical provider?

You may need to complete a few additional forms that tell us about any additional health history, medications and demographics, like where you live. You can find these forms in your To-Do list on the Home Screen. You will also receive notifications to let you know when you have new forms.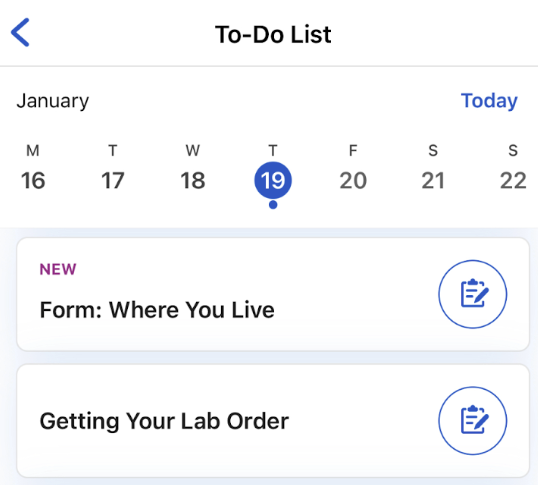 How do I access and print my lab order?

You will receive a notification when your lab order is ready within the app.

To find the order, on the Home screen, tap the gear symbol in the top right corner to access Settings. Then, find the section "My Documents".

To print your lab order, follow the instructions in the "Getting Your Lab Order" lesson found in your To-Do list on the Home screen.

How do I schedule my lab tests?

In your To-Do list on the Home screen, you'll find a lesson called "How to schedule a lab test".

This lesson has links to help you find a lab near you and lets you know what to expect when you go.

You can bring your Vida lab order to any lab of your choice, including national chains such as Quest and Labcorp.

How long will it take to complete the labs?

You should receive your lab orders within 3-5 business days after opting into the service. The timeframe is subject to change if a consult is required first and when that would be scheduled and completed.
Upon completing the test, you should confirm with their lab of choice the approximate timeline for the results to be sent back to Vida.

Where can I access and view my lab results?

Your lab results will be available in your "My Documents" section in Settings. You will receive a notification through chat when new results are ready for your review.

My lab results are outside of normal range. What should I do?





If one or more of your results is out of range, take note of any questions you have. Your care team will be in touch to talk about next steps to help you get to and stay in a safe target range.

If one or more of your results is

critical

, it may need attention right away. Please read the information from the content card provided in your

Chat

screen in the Vida app and take action.

A member of your Vida Care team will also call you to talk about getting medical care and follow-up.