*
If you need assistance setting up your Cohero Health Account, please go Here
*
Setting Up Your BreatheSmart App
Congrats! You have opened your
Cohero Health Package
!
Inside is your new
Cohero HeroTracker
. These items will be used to help you track when you take your medication. The BreatheSmart app will be where you log your information. You can send this data to your healthcare provider, and share with your Vida Coach!
In case you need to download the BreatheSmart App:
*Please read through the user manual before you begin your setup with Vida.
You will also need an Activation Code when you register for the app. This can be found in the Instructional Manual, which was shipped with your device.
Once you have downloaded the
BreatheSmart App
, and have created an account with the
Activation Code
provided, you will be directed to the medication menu. Tap
Add Medication
located at the
bottom of the screen
.
You will then be directed to a new window, asking you to Select Your Medication Type. You have the choice between Inhaler, Nebulizer, Tablet, or Injection. Select Inhaler.
Next, search for the inhaler brand you have been prescribed. This can be done by toggling the page
up or down
.
*If you have an iOS device, there will be pictures posted next to each inhaler.
Select for the inhaler you have been prescribed.
You will be directed to a new screen, asking you to add your daily control. Press Continue located at the bottom of the screen.
You should take your prescription at the same time every day to keep your lungs happy and healthy! And to prevent asthma attacks.
The next screen will ask you about your Daily Usage. This just means what dosage you are prescribed to take, and how many times a day you need to take this dosage.
The First Box is your

Daily Usage:

If you have been prescribed 2 doses each time you use your Control Inhaler, press the +

icon above the

Doses Side in this first box. This is located on the

left-hand side

of the first box.

Next, you will select the

+ icon on located on the

right-hand side

labeled Times Daily.

This increases how many time a day you are required to use your inhaler.
Next, you have will be asked for your Daily Schedule

Select the Time of the 1st Dose

by pressing

SELECT. This Box will be

below

your Daily Usage

Once you have selected your time, Press

Ok.
The separation between your 1st and your 2nd Dose will be automatically

inputted. You DO NOT need to input the time of your 2nd dosage, because the app will calculate the 12-hour difference for you.

If you are prescribed to use your inhaler 3 times a day the app will calculate the 12-hour difference for you, and include your 2nd dose in-between your 1st and 3rd dose.

You can always toggle off your notification reminders if you'd like. This is located at the

bottom of the screen

.
Once you have completed your Daily Usage select Continue located at the

bottom of the screen

.
Activate your HeroTracker

*These instructions will also be demonstrated in the app with illustrations.

Before moving forward, please make sure your Bluetooth settings is Turned On.
Next, you will pull out and remove the clear plastic pull-tab

inside

your HeroTracker to activate its battery. Press Continue on the app. This is located at the

bottom of your screen

.
Next, place the Purple Herotracker

over

the Top of your Control Inhaler, then tap Continue.
To Sync your HeroTracker, Press and Release SYNC located on the front of your Purple HeroTracker

A new window will pop up asking to select your HeroTracker, and pair it with your mobile device.

Once it is synced, you will be asked to name this tracker. You can then press Next or Done when completed.
Once done, press Finish or Add Another if you'd like. These options will be located at the

bottom of the screen

.
Setting Up BreatheSmart with Vida
Great! You have successfully setup your HeroTracker. Now, let's sync the BreatheSmart App to Vida.
Start by opening the Vida App on your mobile device, and login into your account. Please then select the
Settings Tab
, located in the
top right-hand corner
of the screen.
Here, you are able to edit your account information. You will then select the tab Connect Devices & Apps. Scroll down to the box Connect with Cohero Health and select Connect.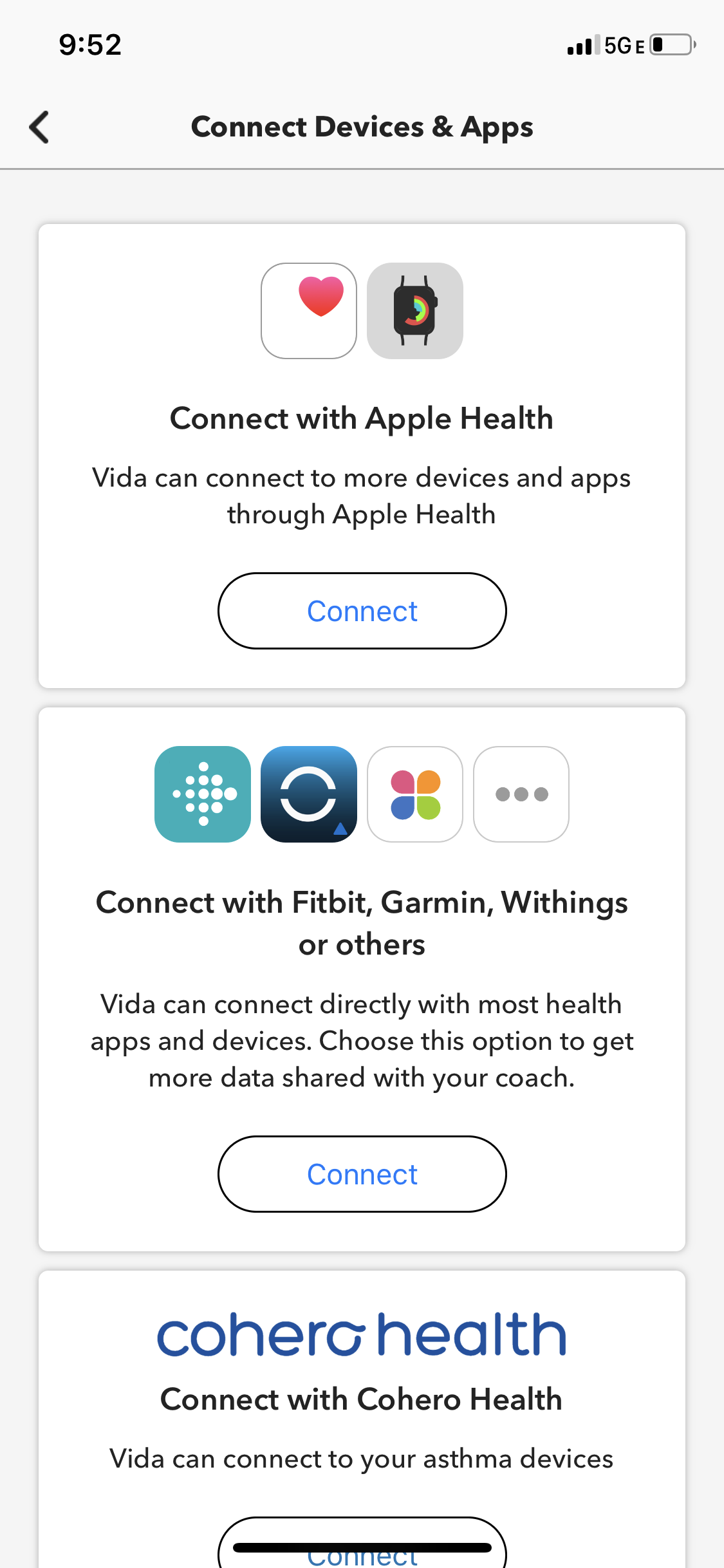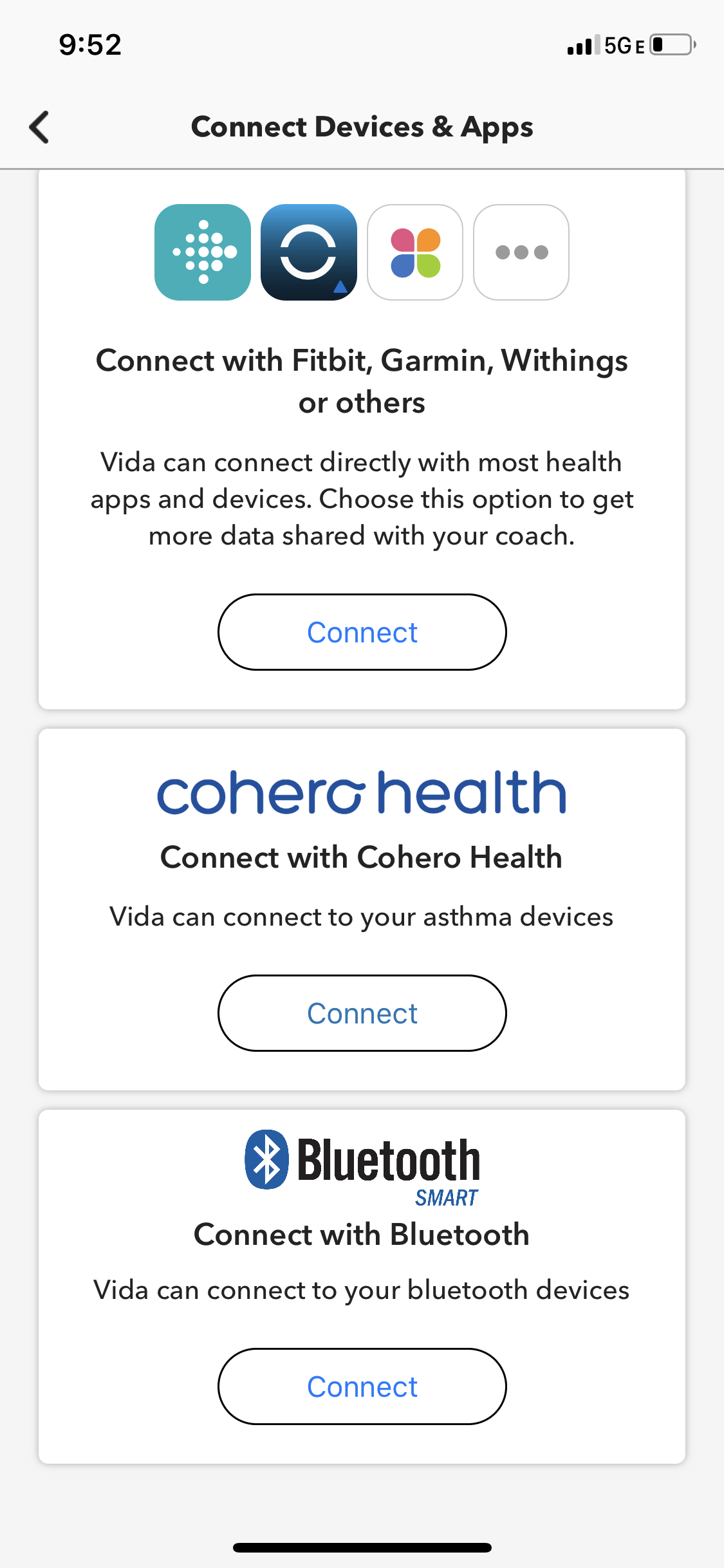 You will then be asked to log into your Cohero Health account. Once you are done, press
Connect
located
below
the text, you have just inputted.
You will then be connected. You're all set!
If you want to create the main goal for your controller inhaler, please Click Here!
If you have any issues, please feel free to email our support staff at
support@vida.com